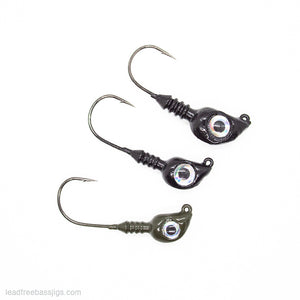 Manic Mullet Swimbait Head 4 Pack.
Our latest edition to our mold lineup featuring 60 degree hooks, a triple disc collar for holding soft plastics and oversized eye sockets and slim profile that rolls producing flash and vibration the Manic Mullet is sure to turn some heads. The Big Eye Swimbait head makes for a killer swimbait head for a variety of freshwater species.
--
These will come four per package and have a Mustad 60º Lite Wire Jig Hook 3/0 or 4/0 hook. This is a nice light wire Swimbait head. Ribbed collar to hold your baits secure.